Originally planted in 1989, Greyfriars Vineyard was purchased in 2010 by current owners Mike and Hilary Wagstaff who were attracted by the opportunity to create a premium sparkling wine at good value to be drank on all occasions.  
What makes Greyfriars wines so spectacular? "It's partly down to the location," explains Mike, "the chalky soil combined with the sunlight on the south-facing slopes of the Hog's Back outside Guildford make this perfect wine-growing country."
Greyfriar's scaling strategy has also benefited from Mike's engineering background and entrepreneurial experience in the oil & gas industry working with start-ups and growth companies.  They have now built up the business to a commercial-size vineyard with 40 acres across two sites and state-of-the-art production facilities.  Production has also grown from 2 tonnes to over 200 tonnes of grapes harvested / annum.  
However, growth has not come at the expense of quality.  Focusing predominantly on English Quality Sparking Wines, Greyfriars has won many awards, and aim to solidify their position as a boutique commercial vineyard and winery business producing.  In turn, brother-in-law David Line was hired as manager as well as an external consultant to help ensure the quality of the wine.
Greyfriars has also diversified the business to provide an amazing wine experience with wine-tasting tours and events which take advantage of the tasting room and a viewing deck overlooking the vineyard and South Downs. They also regularly collaborate with the local community to provide local produce and even yoga for special events.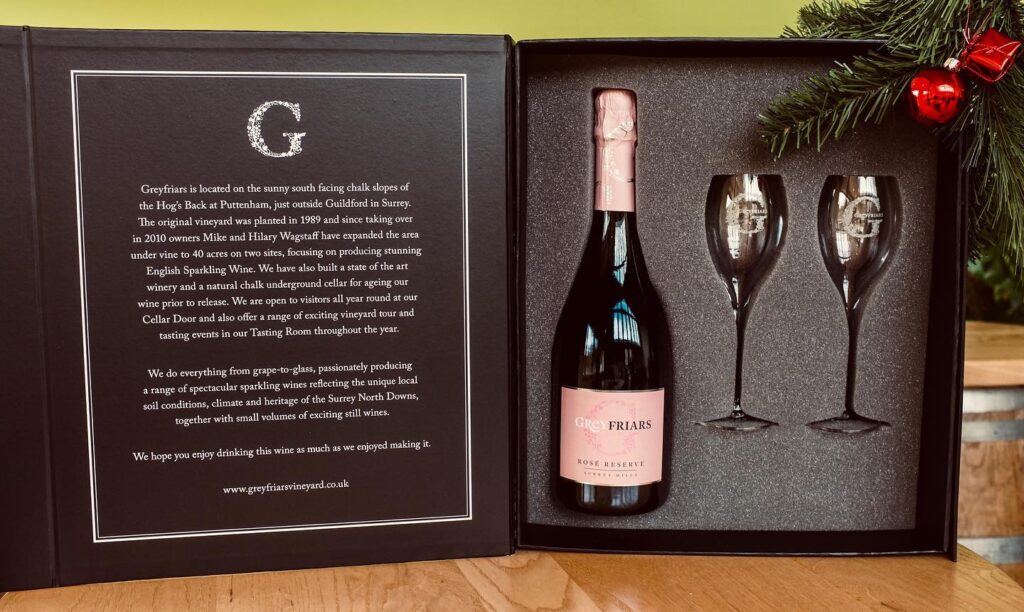 Currently, buyers can buy directly from Greyfriars in their on-site Cellar Door Shop, their e-commerce shop on the company website at https://www.greyfriarsvineyard.co.uk/ and in selected retail outlets ranging from farmer markets to Michelin-starred restaurants.
This highlights a key challenge related to digital marketing which many small-and-medium size firms (SME's) also face.  Greyfriars work as a small team that is constantly multi-tasking so they lack the dedicated resources to effectively develop their digital marketing activity.
Digital marketing requires regular, consistent and targeted posting activity on social media combined with careful tracking of the customer experience through customer journey mapping from social media to the web site.  The website design also needs to be regularly updated and audited for customer experience and SEO.
To help meet this challenge, Greyfriars is collaborating with MSc students from Surrey Business School who are studying Digital Marketing and Entrepreneurship.  Students learn the theory in the classroom and then have opportunity to put it into practice with company stakeholders like Greyfriars.  
As Mike Wagstaff notes, "we are delighted to be working with the Surrey Business School on the Corporate Challenge digital marketing project. Not only is it a great initiative that develops positive synergies between Greyfriars and an important local institution but it is also a superb opportunity for the students themselves to develop ideas and initiatives that have the potential to leave a lasting impact on our business."
To learn more about the Greyfriars Vineyard story or student-based projects, please visit our website www.InnoMatters.co.uk.  If you are interested in a similar project, please get in touch so that we can help other local businesses with their growth strategies too.  
We love to hear
how it all
began
If your company has an interesting business story to share, please get in touch too.  We would like to know how your company face opportunities or challenges as part of your strategies of growth.