Silent Pool & Brand Value
Nestled deep in the Surrey Hills, mystery shrouds the origins of The Silent Pool, but recent acclaim has brought attention to The Silent Pool Gin Distillery which has created its own brand of magic since 2013. This is a story about building a brand and leveraging it with a scaling strategy.
Branding is about the heart, not the head
Founder, Ian McCulloch, previously built a career in the TV and media industry where he developed expertise related to brand development.  In particular, he learned the difference between what engages the heart and what engages the head for advertising strategies. 
People pay huge premiums for football jerseys of their home team but are more likely to compare prices online to find best value for a generic jersey.  To create brand value, Ian points to the use of media to create a human story which fosters emotions such as the tribal screams of a sports team.  In turn, storytelling must balance art, style, and passion.
Building on this experience, Ian looked for a business opportunity which was market-driven and brand-driven as opposed to a niche or a craft focus when he exited the media industry.     Ian identified this opportunity in the booze market where premium brands command large profit margins for comparatively less dramatic differences in quality. He found that, like media, booze engages the heart instead of the head.
Other factors in Ian's decision to set up a distillery business included the role of alcoholic beverage de-regulation which helped marketing for premium brands and the role of EIS and SEIS tax breaks for investors.  With this background, The Silent Pool Gin Distillery was born in 2013 when farmland on the Duke of Northumberland's Albury estate became available.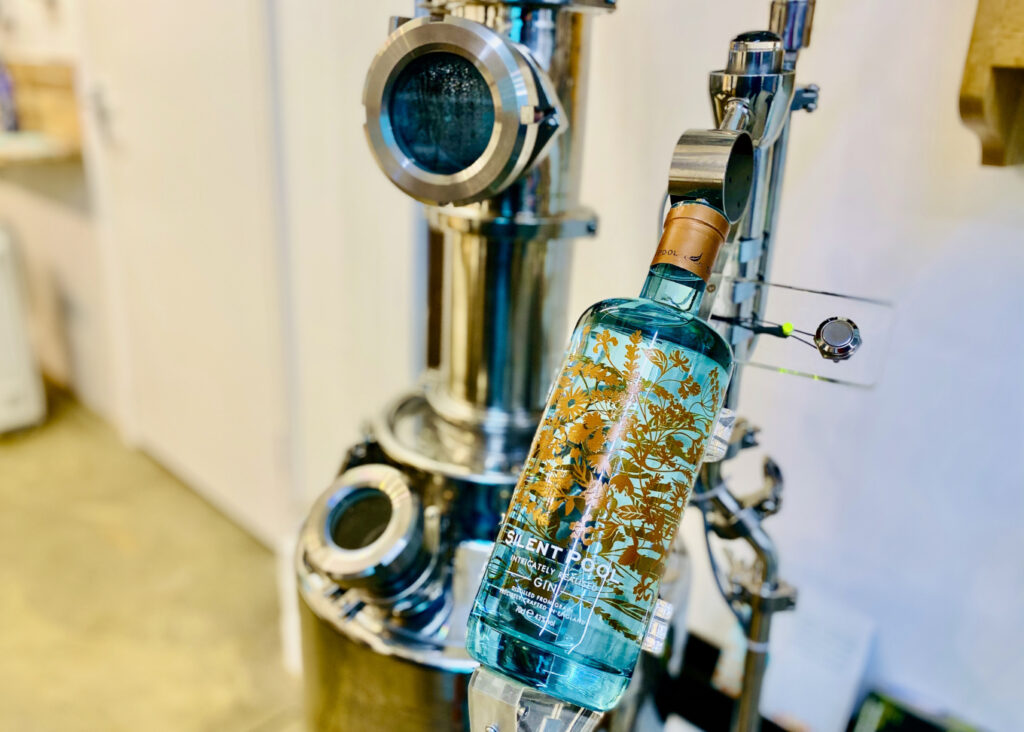 From the beginning, Ian focused on building the brand.  For Silent Pool Gin, this meant being truthful and authentic in storytelling.  Visitors can see the original gin still still being used while aromatic smells waft in the air from the distilling operations on site.  Indeed, customers are encouraged to visit the idyllic premises where they convert to fans which helps spread the word and create a sense of identity for the brand.
Art was important as well to create the brand vision.  In this case, Ian engaged an award-winning British branding agency called Seymour Powell to create the iconic logo which incorporates the botanicals used in the gin, the colour of the Pool (teal) and the story of the Silent Pool with a knight and maiden hidden in an intricate contemporary design connecting past with present. Again, this appeals to the heart rather than the head with shelf reach-out appeal which is so important to engage with the premium market segment.
Finally, Silent Pool Gin walks the talk when incorporating sustainability as a key part of the brand.  Silent Pool Distillers source honey for their gin from local beekeepers, use organic waste to create methane and fertiliser and added solar panels to the roof.   They even launched Green Man Woodland Gin, the first commercially available gin in a cardboard bottle showing how they connect their values with the product.
Silent Pool Distillers knew that they were on to something when local pubs and bars readily bought out their initial production capacity.  Fortunately, they were able to expand production in a second building onsite and now ship annually around 350,000 plus 80,000 white-label bottles.
This has been possible by adding automated bottle-filling technology to expanded production facilities, expanding their product range bottles to 3 different variants and focusing on the export markets.  However, export markets pose other challenges for the brand.
Authenticity in the UK home market is one thing where a common language and culture can convey a certain message or story. For a Japanese salesperson trying to relate the Silent Pool Gin story to potential customers, though, is quite different than a UK salesperson stepping out of the office to give tours at gin production facilities next door. Ian acknowledges that certain changes are needed to support the brand when scaling.
Leveraging the brand needs to balance what may be authentic for the UK market with what can be translated into an international context. For example, Silent Pool Gin creates common copy content for all markets but allows leeway by trusted local business partners to localise the messaging to be authentic in the different international markets.
Here, choosing business partners carefully who understand the local market, understand your own brand and how to best support it becomes key. Silent Pool Gin reviewed carefully distributor partners for the premium sector for gin before deciding on outfits that not only understood what the brand was about but also had a footprint at the high end of their local markets. This validation and onboarding process is detailed and onerous so may take time.
We love to hear
how it all
began
If your company has an interesting business story to share, please get in touch too.  We would like to know how your company face opportunities or challenges as part of your strategies of growth.